CHRIL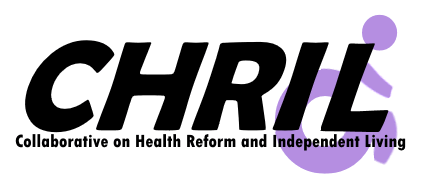 Collaborative on Health Reform and Independent Living (CHRIL)
The Collaborative on Health Reform and Independent Living (CHRIL) is funded by a 5-year Disability and Rehabilitation Research Program (DRRP) from the National Institute on Disability, Independent Living, and Rehabilitation Research (NIDILRR grant number 90DP0075-01-00). The CHRIL brings together disability advocates and researchers from 4 institutions (Washington State University, the University of Kansas, George Mason University, and the Independent Living Research Utilization program at TIRR Memorial Hermann Hospital) to systematically investigate and disseminate essential findings about how the Affordable Care Act's implementation affects working age adults with disabilities.
CHRIL Institutional Members and Strategic Partners
Institutional members:
Strategic partners:
Disability Research Interest Group (DRIG) of AcademyHealth
---
NIDILRR is a center within the Administration for Community Living (ACL), Department of Health and Human Services (HHS). The contents of the CHRIL website do not necessarily represent the policy of NIDILRR, ACL, HHS, and you should not assume endorsement by the Federal Government.